19 November 2007 @ 07:31 pm
yokimon_icons
won an icon award a few months ago
19 November 2007 @ 07:23 pm
wow sorry y'all i'm sort of on an icon making break :(, so i may update maybe every 3 months or so with very few icons.
here are 2 i found in my icon folder that i haven't uploaded yet


YOSTUBATO!
rules
-no hotlinking, (hotlinking make baby Al cry )
-Comment, (i love comments)
-Credit
-Textless icons are not BASES!
-Enjoy!
or else! :3 <3
(x-posted )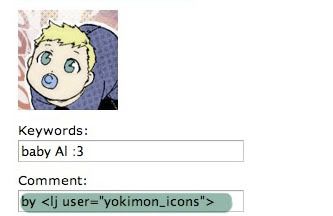 moo <3
fullmetal a {9}
house {7}
scrubs {14}
the office {18}
fruits basket {2}
yotsuba&! {6}
total {56}
prevews:



(
im tired of making up cute sayings, just click here
Collapse
)